Crafted using sustainable composite materials, Millboard decking is designed specifically for the outdoor elements. Millboard's Enhanced Grain collection is moulded from selected smooth timber and hand-coloured for the subtle nuances that only natural wood can provide. The finish brings a stylish dignity to your decking.
The protective textured-top surface creates a resilient, virtually maintenance-free layer, designed to resist algae, and prevent slipping, even in wet conditions. Beneath this durable top layer lies a wood-free polymer resin core, reinforced with fibre for extra strength and resilience. What's more, Millboard is solid rather than hollow, which means that it won't expand or contract, nor warp or rot.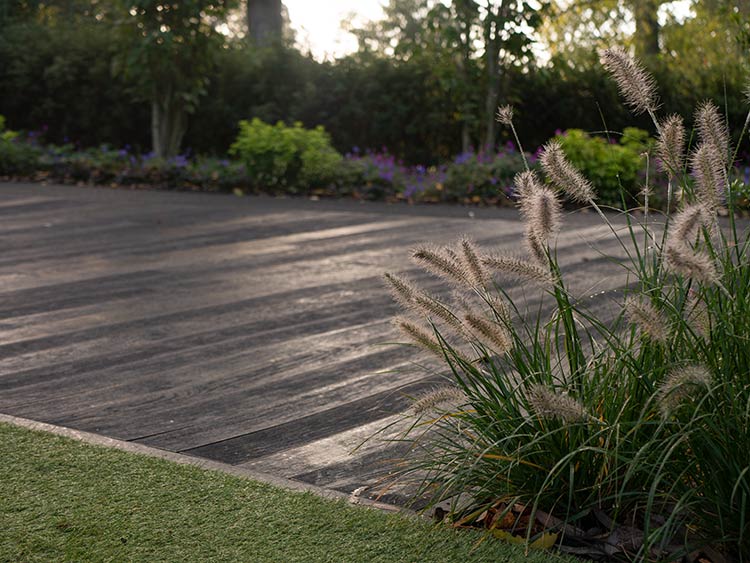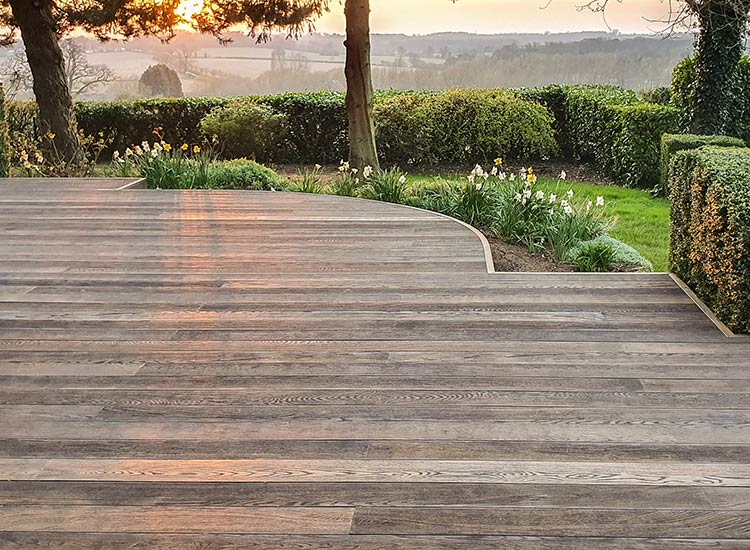 As a Millboard installer, our team at JJH decking love using this unique material, which is made in Great Britain and is unrivalled across the globe. Here's some key features which makes it a stunning yet functional decking.



Tough -

The unique Lastane® layer resists scratches and stains and is designed to withstand demanding outdoor environments.

Safer -

Millboard decking is wood free and non-porous which, in comparison to timber, means good resistance to algae growth and excellent slip resistant properties.

Enduring -

The dual tone Lastane® surface is hand tinted using pigments designed to resist fading and sun damage.

Beautiful -

Each length is hand moulded from specially selected timber for an unrivalled organic wood grain appearance.

Durable -

Millboard decking is solid, not hollow. This makes it strong meaning it won't warp, rot or harbour insects and pests like timber would.

Stronger -

The structural core is a blend of natural minerals bonded in a polymer resin with fibre reinforcement for added strength and durability.

Lighter -

The unique closed 'cellular' internal structure reduces weight while maintaining strength.
Our manufactured products were verified to the international standard ISO 14064 by a UKAS accredited testing laboratory, resulting in a low carbon footprint of 1.31kg / CO2 per m2. This proves that Millboard has a limiting effect on our contribution to climate change and our environment.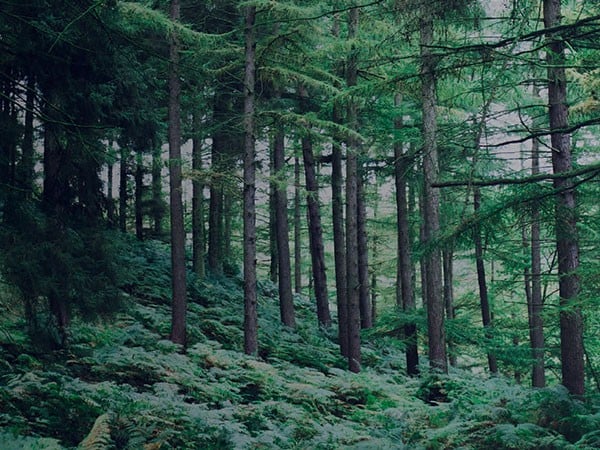 Antique Oak's natural, warm hues are similar to the tones of tropical hardwood and the appearance is reminiscent of attractively aged flooring.
Antique Oak boasts more tonal variation per individual board than any of the other colours in the Millboard range, providing a beautiful and organic look.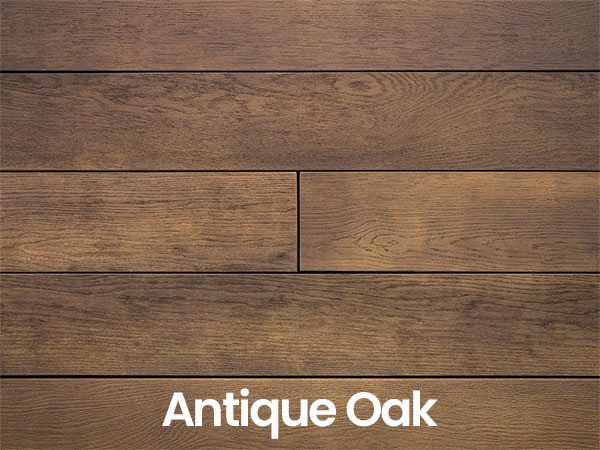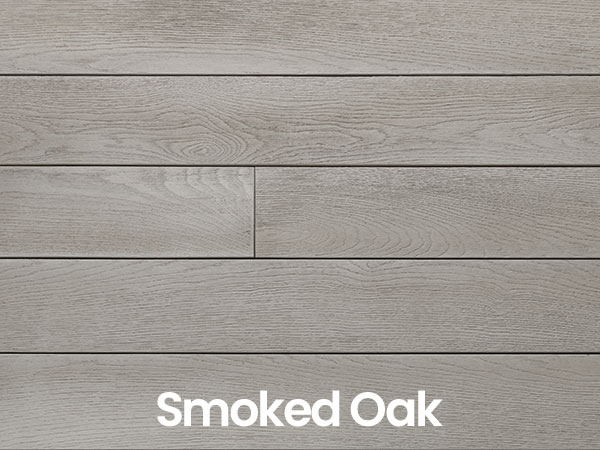 A cool, elegant grey, ideal for contemporary and coastal settings. Smoked Oak has a soft-grey hue and browner tones that nod to time-seasoned hardwoods – yours to enjoy without the wait.
Its silvery decadence is at once contemporary and traditional. Smoked Oak tastefully complements any outdoor space.
Brushed Basalt is the most authentic painted-wood-look decking board available. This distinctive option within the Millboard collection is perfect for seamless transitions between indoor and outdoor spaces.
Consciously styled to work with interiors, Brushed Basalt's glamorous blue-grey hues are mesmerising and interplay beautifully with other cool and contemporary tones.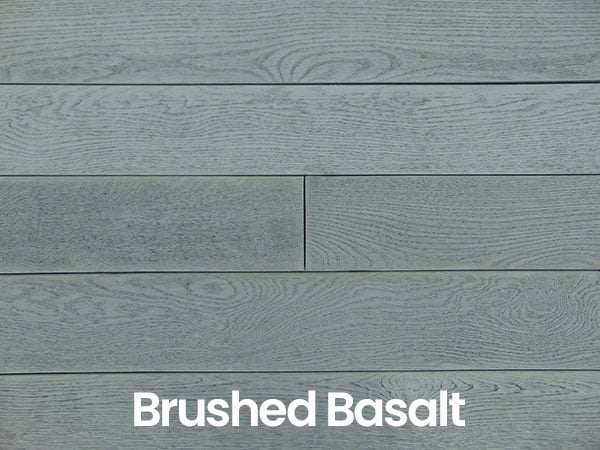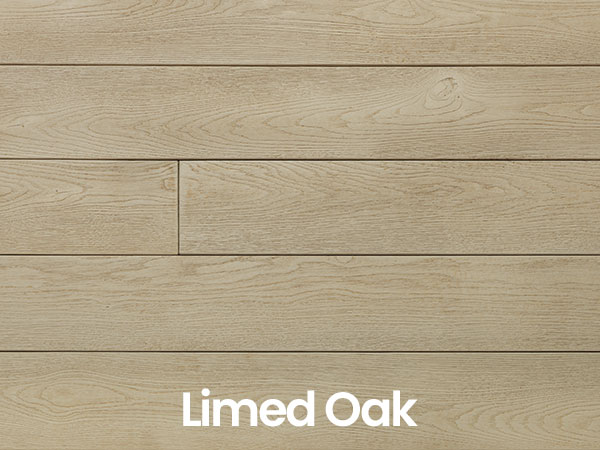 The look of beautifully sun-drenched timber. Limed Oak has a pale, washed appearance which is the perfect complement to outdoor spaces in sunnier locations.
Limed Oak provides a clean and dreamy aesthetic. Its cool and sophisticated presence allows you to create a refined terrace arrangement, whatever your style.
A dramatic statement in smooth charred tones. Inspired by the Japanese Yakisugi technique of burning timber to preserve it, Burnt Cedar is the perfect mix of modern and traditional styles.
With warm black and brown undertones, Burnt Cedar is a bold showstopper and demonstrates both elegance and decadence in equal measure.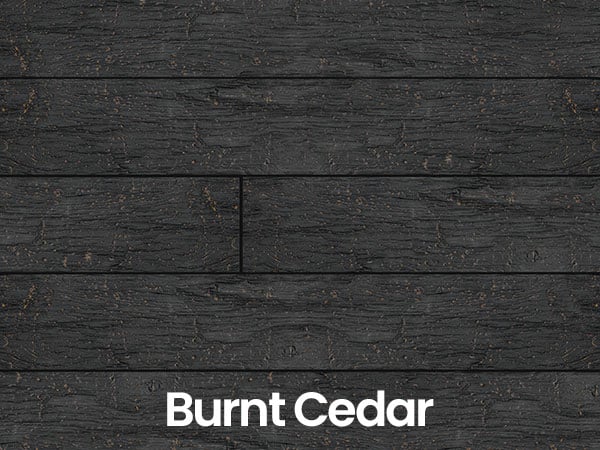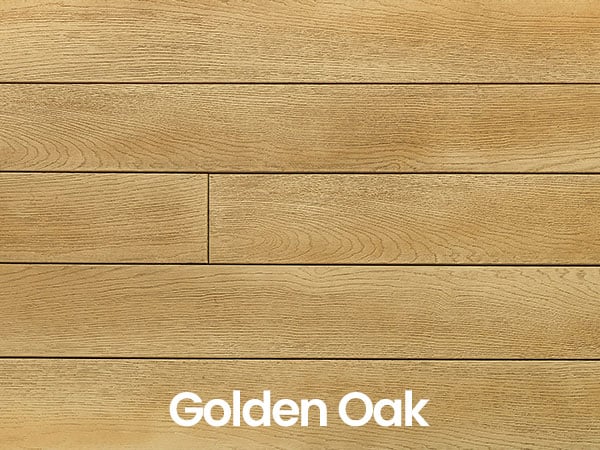 An enduring, versatile classic. Golden Oak offers the appealing look of newly sawn, natural oak timber, with a light golden hue that retains its stylish appearance over time.
Golden Oak's warm tones serve as the perfect backdrop to many different tastes and preferences. Add distinction with this handsome and pleasingly traditional board.
An autumnal rich finish with a profound depth of colour. Coppered Oak creates a look reminiscent of high-quality hardwoods such as ipe or teak.
Imbue your relaxing outdoor space with the natural vibrance, texture and tone of this russet-brown shade, moulded from smooth, organic timbers.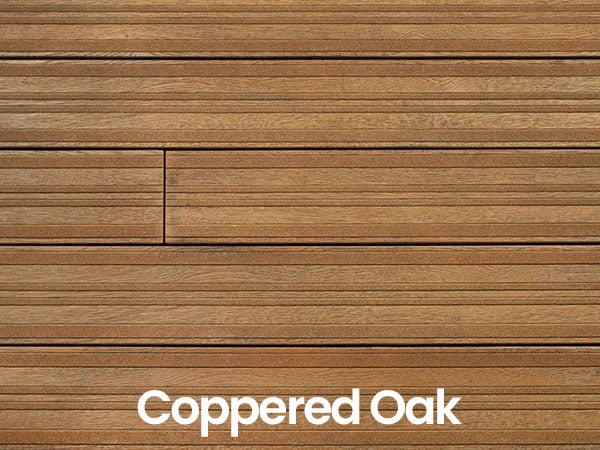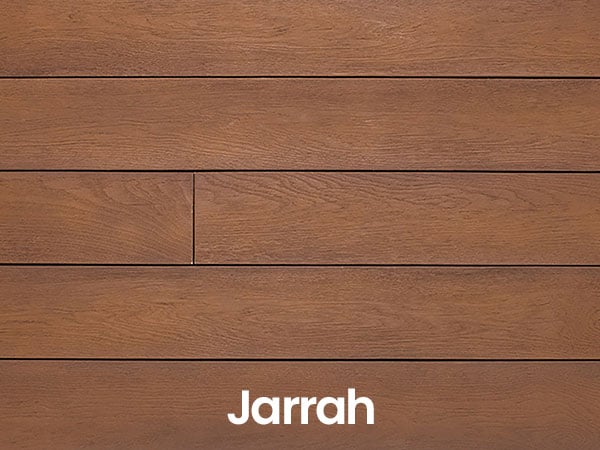 A deep, burnt-sienna hue inspired by the timber of the native Australian Eucalyptus tree. Jarrah has warm, earthy tones that feel at home in a variety of situations.
Bring an exotic sense of luxury to your outdoor space with Jarrah. With its smooth visage and tropical colouration, Jarrah calls to mind remote sun-drenched islands and retreats.